---
Seelenspalter (Die Geheimnisse der Klingenwelt)
by Ju Honisch
Publisher: Knaur TB (1. March 2017)
ISBN-10: 3426518449
ISBN-13: 978-3426518441
816 pp
Only the strong survive in the Eight Realms, which are caught in an endless war for supremacy. Maleni understands this very quickly when, after a massacre, which her entire village falls victim to, she finds admission to the Order of the Xyi. Unrelenting drill and a mysterious ritual let a part of Maleni become the Assassin Taryah, who without feeling pity or asking questions pursues her bloody trade. But things are not as simple as they seem – not in the Eight Realms and not in the Order of the Xyi. And one day Maleni must realize that Taryah is not only a part of her – but her greatest enemy.
Available at: Amazon.de!
---
Blutfelsen (Die Geheimnisse der Klingenwelt)
by Ju Honisch
Publisher: Knaur TB (1. May 2018)
ISBN-10: 3426521032
ISBN-13: 978-3426521038
782 pp
Against all odds, Deruonn makes it to the inaccessible valley in which the Secret Library Reyalun lies hidden and isolated from the world. It is dedicated to only one purpose: to preserve all the knowledge lost outside in the world during the eternal war. The young archivist Shernay knows what fate will befall an intruder, and against all reason she decides to save Deruonn. When her violation of the library's harsh law is discovered, Shernay has no choice but to flee with the captivating stranger. However, the world outside Reyalun is unpredictable and brutal. The knowledge in Shernay's head becomes the commodity and the weapon that could bring victory to any side who finds her first.
Available at: Amazon.de!
---
Die Quellen der Malicorn (The Wells of Malicorn)
by Ju Honisch 2013, 1. Edition, HEYNE Verlag, ISBN 978-3-453-31460-3 Paperback, 640 pages 2016 (E-Book edited new edition), hockebooks.de ISBN 9783957511546 (currently only available in a German version)
A devastating war breaks out in the world Talunis – after centuries of peace. A peace-loving people of shapeshifters reigns here – Unicorns, called the Tyrrfholyn. In a fight Kanura by mistake ends up in the human world and is now Ireland. There he meets Una and takes her back to his realm. The talented and strong-willed young man woman finds herself in a world, where a cruel and unscrupulous regime seeks to oppress everything they consider alien and inferior. Suddenly war becomes more than just news from distant countries. Now Una's life is at stake and that of a man who is very much more than – just a man. available at Amazon.de or at hockebooks!
---
Obsidian Secrets
by Ju Honisch
Amazon E-Book 
The year is 1865. The place: Munich, capital of the Kingdom of Bavaria. A magical manuscript has been stolen. Assisted by two young Bavarian officers and a wizard-scientist, British officer and secret agent Delacroix is sent to find it and return it to England. However, the promise of destructive power contained in the manuscript draws murderous creatures who plan to use the artefact to change reality into a gory vision defined according to their most heinous fantasies.
Miss Corrisande Jarrencourt, a young English lady with an unspeakable secret, has come to Munich to find a rich husband. Caught in the cross current of disasters, she has no choice but to face the worst dangers while being courted by members of the team, coveted by monsters from the abyss of madness, and hunted by a secret cultist order that has its original foundations in the Inquisition.
Her survival is at stake. But then, so is that of the entire world.
---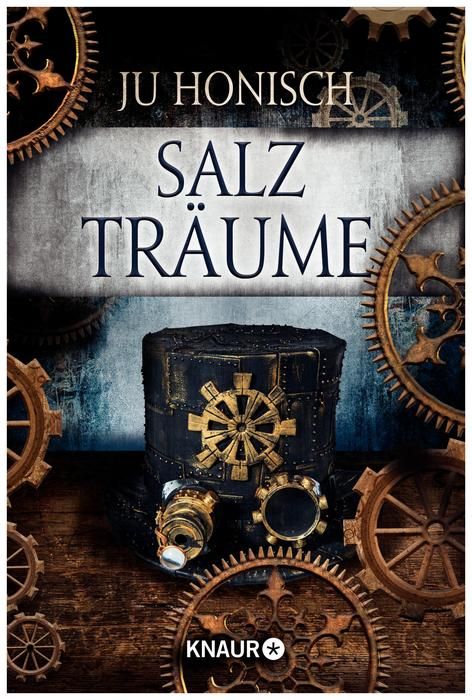 Salzträume (Dreams of Salt)
by Ju Honisch
Knaur eBook
01.02.2018 revised edition, 1170 p.
ISBN: 978-3-426-45218-9
The book is set in the autumn of 1865, in the lakes and caves region of the Totes Gebirge (= Dead Mountains that is actually their true name ) in Austria. Hidden in the Alps, an unscrupulous inventor and his minions are secretly building an "über"-weapon. For this they hunt the Sí or Fey – otherworldly creatures of diverse kind – to use them as magical fuel for their machine. When Charlotte actively opposes the brutish hunters of the Fey, she gets drawn into the proceedings and suddenly finds herself among those hunted. She flees into the caves with a complete stranger and to her chagrin must find out that her companion is at least as dangerous as her pursuers – and keeps a really undesirable diet. "Salzträume" (Dreams of Salt) is a follow-up novel for "Obsidian Hearts" which is set in the same universe but has its own story. The novel is the next instalment of adventures set in the 19th century and follows the tradition of the classic gothic novel – with some black humour and a pinch of steam punk. This manuscript, too, is available in English.
available at Amazon.de!
---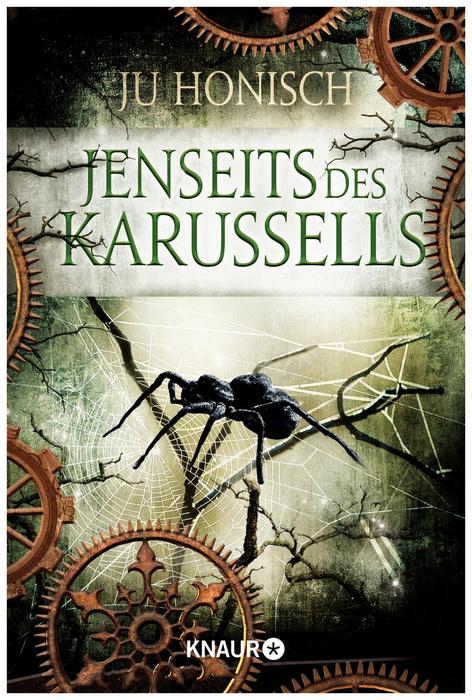 Jenseits des Karussells
by Ju Honisch
Knaur eBook
03.01.2018 revised edition, 464 p.
ISBN: 978-3-426-45219-6
When you are seventeen, life should be a lot more fun. Instead of going to dances and meeting eligible gentlemen, Catty is visited by nightmares and visions. No one except herself recognises the danger. No one listens to her – and who will save her? Thorolf's life is much more pleasant. He is a young artist and bohemian with interesting friends and no need to worry about anything – he thinks. But horror enters his life, and all of a sudden, nothing is as it used to be. He is different, the world no longer is as he knew it, and the girl he wanted to save has turned into a cat. Together with his roommate Ian McMullen, a student of the Arcane Arts, Thorolf has become part of a chess game between powers that go far beyond human capacity.
available Amazon.de!
---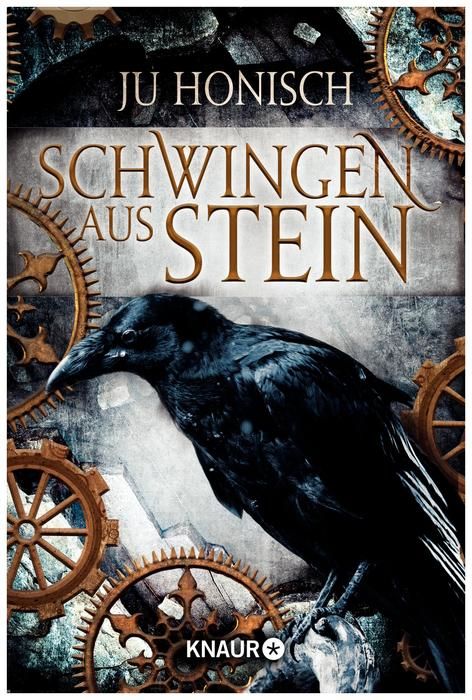 Schwingen aus Stein (Wings of Stone)
by Ju Honisch
Knaur eBook
03.01.2018 revised edition, 512 p.
ISBN: 978-3-426-45220-2
A secret lies hidden in the Bavarian Forest, a curse that has caused havoc long time ago. While trying to escape from the Brotherhood of Light, the secret order that hunts down anything that appears demonic or suspect them, Konstanze, the governess, and Clarissa, her student, are carried along by the force of events. In an attempt to free her student, Constance gets deeper and deeper into the dark forest without a single idea of what might lie in wait for her there. Smugglers, murderers, wolves, monsters, spirits, mages, monks of the Brotherhood – they are all entangled in a web of events, and they all have their very own plans for Konstanze and Clarissa. And even the two strange gentlemen who have promised help, are not at all what they seem.
available at: Amazon.de!
---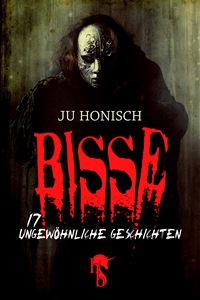 BISSE
by Ju Honisch ISBN 978-3-957511119 30. Oktober 2015, E-Book (First published in 2007; only available in German)
Odd behaviour of the nice neighbour from across the corridor, chasms found in souls, mythical creatures which in comparison to the average urban dweller lose some of their scariness The stories have one thing in common: what has been totally normal up to now suddenly twists and turns into something slightly different that will make our spine tingle. The stories are horror stories of the classical kind, no splatter.
E-book download at: Hockebooks or at Amazon.de!
Reviews of "Bisse"
---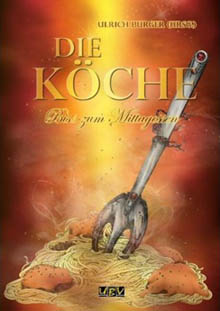 Die Köche – Biss zum Mittagessen
2010, Ulrich Burger Verlag ISBN 978-3981284645 December 2010, 1. Edition Paperback, 150 pages (only available in German)
This is a cookbook with recipes handed in by the German fantasy authors. All recipes are accompanied by a story to which they belong. The book is in part a fund raiser for the project "KIDS-TO-LIFE". Recipes and stories by: Markus Heitz; Tommy Krappweis; Oliver Plaschka; Christoph Marzi; Christoph Hardebusch; Michael Peinkofer; Gesa Schwartz; Thomas Finn; Stephan R. Bellem; Stephan Russbült; Daniela Knor; Aileen P. Robert; Mona & Carsten Steenbergen; Christoph Lode; Lena Klassen; Tanya Carpenter; André Wiesler; Timothy McNeal; Diana Kinne; Fabienne Siegmund; Markus Grimm; Lena Falkenhagen; Thomas Plischke und Ju Honisch. Order at: Amazon.de!
---
Geheimnisvolle Geschichten 2 – Steampunk
2011, Saphir im Stahl Verlag Erik Schreiber ISBN 978-3-9873823-3-4 Hardcover, 208 pages (only available in German)
Short story collection which contains: Ju Honisch "Innovationen" Stories by other authors: James Lovegrove: Steampunch, Georg Plettenberg: Vazlav Mihalik korrumpiert und bestochen; Michael Buttler: Die Gelegenheit seines Lebens; Andreas Zwengel: Volldampf; Petra Joerns: Zeitlos; Jörg Olbrich: Die Dampfkanone; Holger Kuhn: Fortschritt; Maximilian Weigl: Tullas Traum; Max Pechmann: Ärger mit Mimi; Hermann Ritter: Im Schatten des Pulverturms; Anke Brandt: Salbeiduft; Barbara Nitribitt: Im neuen Jahr wird alles anders; Erik Schreiber: Mit einem Lächeln.
Order at: Saphir im Stahl Verlag or at: Amazon.de!
---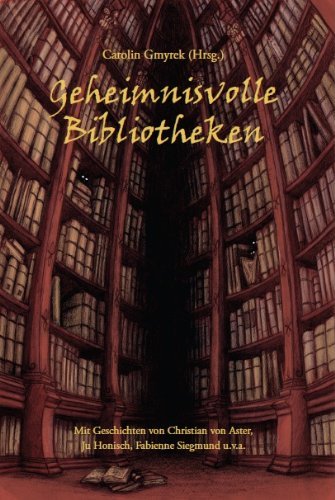 Geheimnisvolle Bibliotheken (Mysterious Libraries)
2012, Verlag Torsten Low ISBN 978-3940036155, August 2012, 1. Edition Paperback, 401 pages (only available in German)
Libraries are places full of secrets. They contain knowledge, treasures, riches … and sometimes that's all one and the same. Libraries give space to changing dreams, hidden tales, mysterious creatures that are concealed behind the shelves and unseen worlds behind every cover books. The smell of old paper and dust blows like a restless spirit through the dark rooms and in the air is the quiet whisper of thousands of thoughts and ideas. A maze spread out for miles with a secret in every corner waiting for you take take your breath away. Contains stories of Christian von Aster, Ju Honisch, Fabienne Siegmund and many others… Illustrated with comics by Stefanie Hammes, Irene Bressel und Gabriel deVue. Available at: Verlag Torsten Low or at: Amazon.de!
---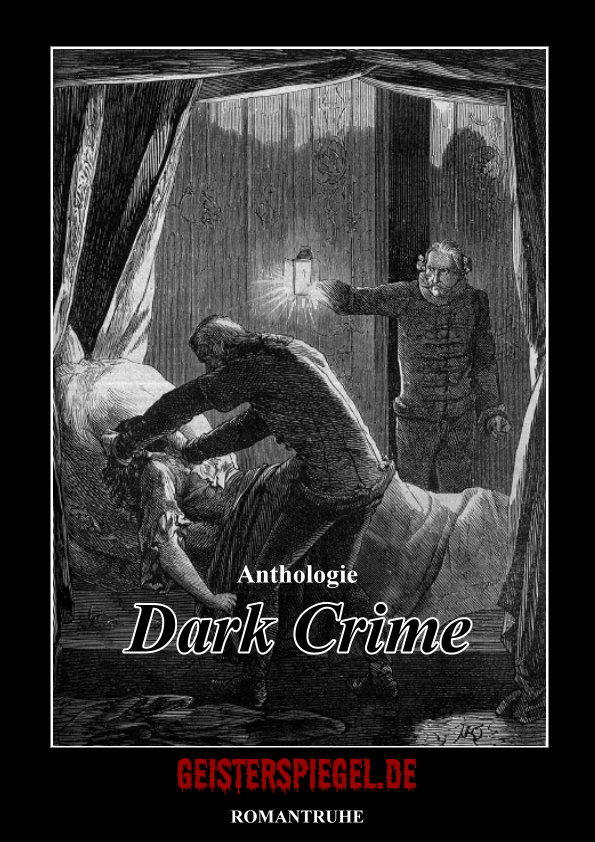 Dark Crime – Die Geisterspiegel-Anthologie
2013, Geisterspiegel, Romantruhe ISBN 978-3864730689, March 2013 Paperback, 236 pages (only available in German)
Have you ever thought about why there are so many criminal cases that vanish in the files unresolved? We asked several authors to investigate such cases and to solve them with new and strange ideas. The result is an anthology that cannot be more varied. Authors: Michael Kirchschlager: Die Pechlarve, Torsten Scheib: Fiasko, Ju Honisch: Nicht tot, Erik Schreiber: Lass keine fremden Männer ins Haus, Cailleach O'Shea: Raserei, Andrea Tillmanns: Ein todsicheres Alibi, Sascha Vennemann: Poteen, Jörg Olbrich: Morde in Vineta, Stephan Russbült: Zieh!, Andreas Zwengel: Volles Rohr Available at: Romantruhe.de !
---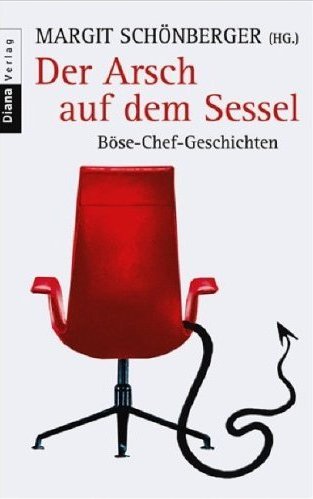 Der Arsch auf dem Sessel
edited by Margit Schönberger (HG) 2008, Diana TB Verlag ISBN 978-3-453352-36-0 Januar 2008, 1. Edition Paperback, 352 pages
Title translation: The Ass on the Comfy Chair Stories about evil bosses
Are they that dumb or do they just pretend to be? They drive big cars, wear expensive suits, spend their time in meetings and are rather unnerved for the rest of the day: bosses. Be they men or women, as soon as they have some power they transmogrify into order-bellowing drill sergeants. They suck at getting the simplest things done. Get a cuppa, make a photocopy, dial a phone number – suddenly all that is just too much. And while other people get things done for them, they cuddle with their blackberries. It's time they got a little shaking up. These stories tell the truth about bosses. Bärbel Schäfer, Hera Lind, Evelyn Holst, Ju Honisch etc. vent their frustration in a witty and entertaining way. 15 new stories by German authors. A great present for everyone who ever wished their bosses to kingdom come. My story "90 – 60 – 90" can be found among an illustrious group of female authors: Maria Serrano, Hera Lind, Christine Grän, Susanne Luerweg, Sama al Haschasch, Daniela Pietrek, Jutta Kessler, Susanne Arndt, Ann Berg, Sabine Reichel, Edda Minck, Katja Maybach, Evelyn Holst, Renate Fabel, Bärbel Schäfer, Jana Voosen. available at Amazon.de!
---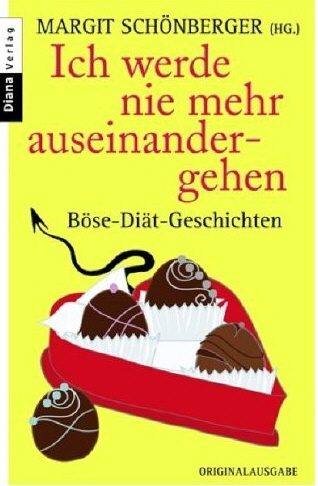 Ich werde nie mehr auseinandergehen
edited by Margit Schönberger (HG) 2009, Diana TB Verlag ISBN 978-3-453-35259-9 Januar 2009, 1. Edition Paperback, approx. 352 pages
"Horizontal stripes make you fat. But who would eat horizontal stripes?" When you shun the mirror and make a detour around the scales, it is time again for "it": the diet. We all know the feeling and share the experience as well as the hopeful illusion that we might lose a stone or two over night by divine intervention. 18 different writers here share their acerbic comments on this dreadful time in life. This will be an original issue presenting 18 so far unpublished stories by well-known authors. available at Amazon.de!
"Dreams of Salt" follows the tradition of the classic gothic novel – with some black humour and a pinch of steam punk.